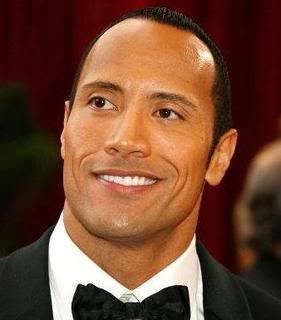 Dwayne Johnson aka "The Rock" used his rippling muscles in the WWE before he became one of the action and adventure actors. Unless you have lived in a cave for decades it is well known that he is a professional wrestler for the WWE and is a current Champion in his eighth rein.
Dwayne Johnson was born May 2

nd

, 1972 in Hayward California and he is 6'5" of charisma---charm and is one of the nicest actors to meet---I am told.
Dewayne is a third generation wrestle in his family. His grandfather Peter Miavia was born in Hawaii on April 6, 1937 and died June 12, 1982. Peter's daughter Ata (Dwayne's Mother) married Rocky Johnson a Canadian in 1978-2003. These two great wrestlers paved the way for Dwayne in the wrestling profession.
He was fortunate enough to travel with his parents and watch his dad as he performed in the ring as a great wrestler he was and probably still could be---however he is retired now. Rocky Johnson enjoys watching his son's career in WWE and making movies.
Dewayne made his first movie "The Scorpion King" in 2002 and was well known before the movie because of all his guest appearances on many television show and then he appeared on Saturday Night Live which put him in the limelight and he received the most attention from Hollywood as he began receiving movie offers.
He is always busy if he is not doing a movie---he is involved with the WWE in one way or the other. His man has more energy than most men and since he is only 40 years old he still has a long movie and WWE life to enjoy. He has millions of fan who support him at the box offices and then buying his DVD's of his movies---I know I am one of them.
Dwayne played the role of Mathayus who fights against an evil army that is damaging his Homeland. The movie has a lot of scenes in the desert, action, fighting and Mathayus falls in love with the Sorceress the one he was hired by the tribes to kill.
Fast and Furious 6
Dwayne plays the role of Agent Luke Hobbs who solicits Dom(Vin Diesel) and his team to bring a rivial gang to justice and if they will help him---they will have a clear record.
G.I. Joe 2: Retaliation
Dwayne plays the role of "Roadblock" a strong and experienced team leader of the G.I. Joes. The team has assignment to terminate the Cobra; the enemy of the people. But instead of receiving support from the government who is responsible for them being in the field ready for a fight with Cobra---their own government tries to terminate them all.
Now the ones who are still alive have two enemies after them---so they are joined by the original Joe (Bruce Willis) and we know there will be Hell to pay when he is involved. The word action is an understatement when Joe joins forces with Roadblock.
Dwayne is another one of my action heroes and I hope you enjoy this post about him.
Dwayne said this is a story about my family and protecting my family with a warrior spirit. Listen to him explain about his tattoo and what is stand for.
Dwayne Johnson's father is Rocky Johnson---who was born Wayde Douglas Bowles. Mr. Rocky Johnson is a retired Canadian Wrestler. As one can see Dwayne inherited good genes from his father.
Both father and son are healthy and in great shape.
But wait until you see his Grandfather Peter Maivia Born Fanene Leifi Pita Maivia in 1937 and died June 1982. He was a Samoan Professional Wrestler.
Mr. Maivia gave Dwayne good genes also. Dwayne is from a long line of wrestlers who kept their bodies in excellent shape by eating the proper food and working out. Mr.
Maivia was also known as the Flying Hawaiian. He wore the tribal tattoos which covers his abdomen and legs. He wore them in honor as they were a symbol of his High Chief status.
His grandson Dwayne Johnson has the tribal tattoo on his upper body to honor his grandfather.
What an amazing family and one I hope Dewayne has a son one day to pass the tradition on and keep the tribal tattoos going down the line of
descendants.
© BEPH 2013
All Rights Reserved
Check out my blog of 100+ movie reviews---click the link below:
My Favorite Movies---Link Below::